I make sense of super-chaotic complexities and bring them all together at the right time in the right place.
Collaborate with me, or use my amazing team of freelancers, who work on a project basis out of our studio in London's West End. Here are some of the things we do:
What I do: Music Videos, Documentaries, Recordings, Events.
What I don't do: I'm not an engineer or technician, and I know very little about practical delivery below the line where the true expertise lies 😀.
I only produce things with an engineer and/or editor, or preferably both plus a Director/DOP for Video, and only when I'm not scraping a box. As the Ronnies might have put it, I know my place!
Music Videos
Documentaries
Beethoven in Palestine [Working Title]
Over several years, I've been working on a long term documentary project telling the story of musical development in Palestine. Read more about this in the West Meets East project pages.
Why Do You Play The Violin (2013 short, original cut)

Recording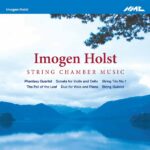 We won a BBC Premiere Award for our self-produced recording of Imogen Holst: String Chamber Music which is still played regularly on BBC Radio 3.
Although I've moved away from fixing nowadays to focus on my own projects and playing, I still have a network of brilliant engineers/editors/box-scrapers/session musicians we use for in-house projects, that I can call on as needed for client work.
We're always happy to look at interesting projects - contact us here.
Events
Over the years my production team has delivered some amazing events, particularly many very memorable events for ViolinSchool. We maintain the capacity to deliver small and medium scale events for private clients, or to integrate into larger events as a self contained operation.